Gloster's roots can be traced all the way back to West Africa in 1960, where a band of passionate entrepreneurs and furniture makers took the first steps on a long journey. Within 10 years they became the largest furniture producer in Africa supplying finished pieces to many of the top indoor brands in Europe.
From the start they were always both environmentally and ethically aware — often using discarded branches and tree stumps, which would otherwise have been burned — to make the smaller components. Within 10 years, Gloster became the largest furniture producer in Africa.
Key to their philosophy is the belief that outdoor furniture is as important a style statement as indoor furniture, and to this day, the company continues to be committed to green and ethical policies in everything they do. Here are some of their latest outdoor designs.
Natural Fit
With six reclining positions and contemporary styling, the Grid double lounger is quickly becoming a favorite among homeowners. This spacious sun chair, one of several components of the group's Grid Collection, is designed with two full-length attached teak sides tables for holding drinks and other necessities. Its outdoor cushions are highly water resistant, so no water can enter inside. Place the pieces in a mix of arrangements to suit your space.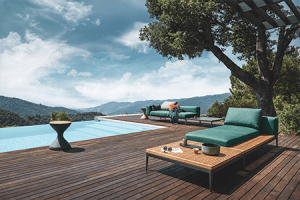 Brush With History
The design of the Arlington dining chair is based on a traditional British colonial style but reinterpreted to suit modern day trends as well as traditional settings. The arm chair is designed with a natural teak frame, curved arms, louvered back panels and shaped legs. Offering the authentic look of cane but with the benefits of using a modern material, seat construction is fabricated from man-made wicker.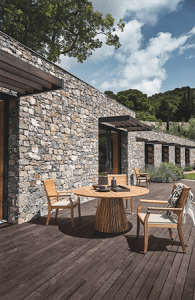 Scene Changer
Create an outdoor oasis for relaxation with the Cradle Day Bed. Conceived by Danish designer Henrik Pedersen, this unique lounger is ideal for one and large enough for two. A powder-coated aluminum frame and teak slats create a sense of enclosure while remaining open to the elements. With the addition of a shade cover and side screens, privacy and sun protection can be adjusted as needed. An optional side table offers the perfect place to rest your drink or reading materials.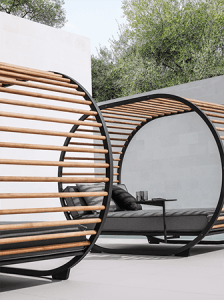 Modern Allure
Take your outdoor seating experience cues from old-world willow twig fencing. Gloster's Grand Weave mixes man-made materials for a modern twist on a rustic look. Built on a large scale, powder-coated aluminum frame with stainless steel finials, each piece is handwoven with all-weather fibers. Weather-resilient cushions and scatter pillows lend comfort and style. Connected together or bridged with a center table, the collection allows for a variety of layout options.