Evergreen is probably the best way to describe the majority of our yards, as color mostly comes from the flowers we grow, and while they are generally seasonal, there are often periods without any blooms at all.
Want an easier way to rev up your garden without having to plant a thing? Think hardscape, as in walls, art, tile work, fountains, and furnishings (OK, those may be considered soft goods, but they still work). There's nothing like inspiration to get the ideas spinning, so here are some of Trademark's favorites.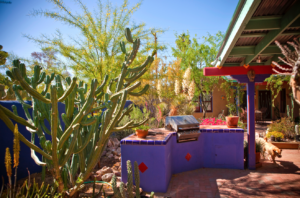 Go bright with paint, whether on a brick wall, stucco barbecue area, or wood columns. Just make sure you have the right kind of outdoor paint for the type of material you are covering.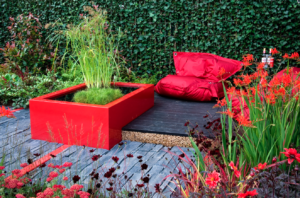 Here, a plexiglass planter in a vibrant red is matched by an equally bright all-weather pillow. The idea is to pull colors from the plants when they are growing, but also to provide the same ambiance when they are not in bloom.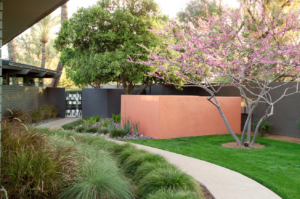 Gray and terra-cotta make a great combination, and painting walls is one of the easiest ways to create focal points. While this yard has a fair amount going on in regards to plant materials, the walls help ground the space.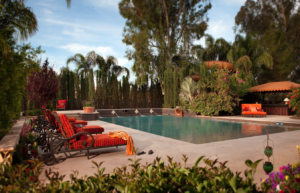 Furniture cushions, a ramada cover and even a slide add wow factors to this otherwise plain, but lush setting. Without overpowering the space, they add just enough interest to bring the whole look together.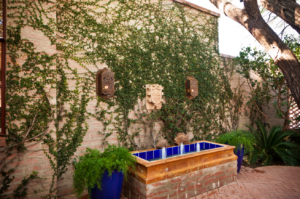 Again, understated elements transform the space. Pottery and tilework combine to create a charming vignette that suits the style of the house. And you can't ever go wrong with cobalt blue.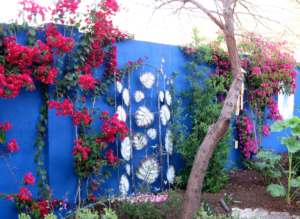 A Mexican-inspired painted wall with richly hued bougainvillea vines and a piece of metal art make a side yard show-worthy. Guests visiting this house love to see what's around the next corner.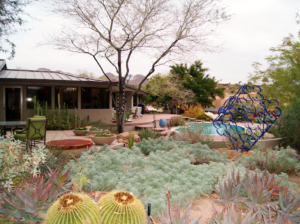 Always a fun addition to an outdoor space, colorful sculptures are a great way to bring the personality of the homeowner into the garden. Whether a quirky design found at a crafts show or a commissioned piece, outdoor art always looks at home in the landscape.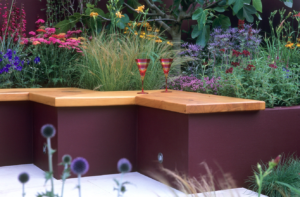 A burgundy painted seat wall with a stained and coated wood top is a perfect addition to this flower-laden garden. And when the temperatures cool and the blossoms fade, there's still plenty of reason to be drawn to this setting.
8