If you've ever had the opportunity to shower au natural in the open air, there's something to be said for the exhilarating sensory pleasure it provides. Outdoor showers allow you to rinse off after a day of hiking, gardening, boating or swimming, leaving you clean and refreshed before heading inside.
Whether designed to fit the architectural style of your home or incorporated to blend in with your environment, outdoor showers can be as elaborate or simple as you like. Here are some of our favorites: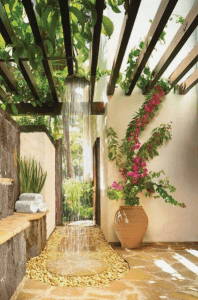 Topped with a latilla-style covering, this tropical shower setting is all about nature with its potted plants, evergreen trees and natural stone.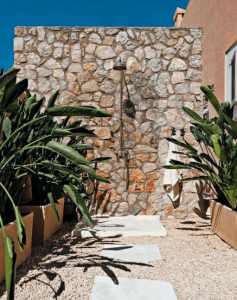 A rock-embedded wall serves as an organic backdrop for a shower head and towel hooks, while stone pavers form a simple walkway.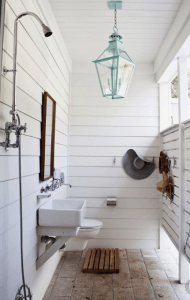 Rinsing off under the stars has never been so romantic with an elevated shower wall filled with nooks for candles and shower necessities.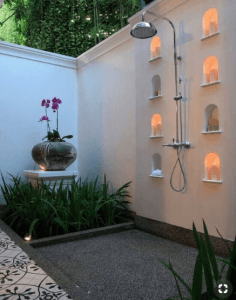 Privacy at its best, a full outdoor bathroom makes it easy to keep dirt outside where it belongs and affords protection from the elements.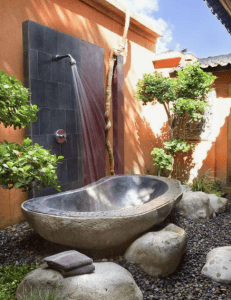 Tucked into a side yard, this Zen-like space offers the ultimate in outdoor bathing. With a large tub, wall-mounted shower and rock-studded landscape, who needs a trip to the spa?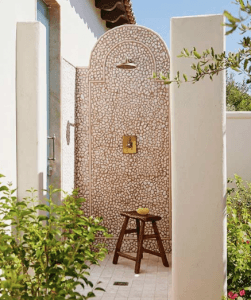 A stone-embedded shower wall brings high style to a small space just off the master bath. The tiled floor makes rinsing off easy on the feet.