Playing With Plants: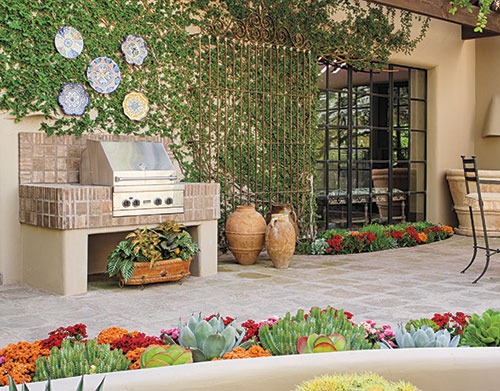 An unusual mix of succulents adds a burst of color to a patio garden.
When designing a garden, going for the unexpected can be a provocative way to introduce some style to your landscape. For this backyard setting, Phoenix landscape designer Peggy De La Garza wanted to bring in color and soften the hardscape with greenery. But rather than go with the typical annuals and perennials, she chose to use multicolored kalanchoes and other compact succulents instead.
For year-round foliage, she planted Moroccan mound for its tightly packed stems and artichoke agave, a rosette-shaped succulent, in two narrow garden beds. Then, she tucked in flowering kalanchoe (Kalanchoe blossfeldiana) and red-tipped flapjack kalanchoe (Kalanchoe thyrsiflora 'Flapjack') for a blaze of color.
"Fall and early winter are the best times of the year to grow kalanchoes," says De La Garza, a Phoenix Home & Garden Masters of the Southwest award winner. "And because the ones in this garden are located in a northern exposure and won't get blasted by they sun, they will last a good three months." After that, she replaces them with fresh kalanchoes.
The designer also planted creeping fig vine to climb up the back wall of the house and onto the latilla-style overhang to tie the architecture into the landscape. Terra-cotta vessels, plus an iron trellis and decorative plates attached to the wall, evoke an eclectic Mediterranean-meets-Southwestern look.