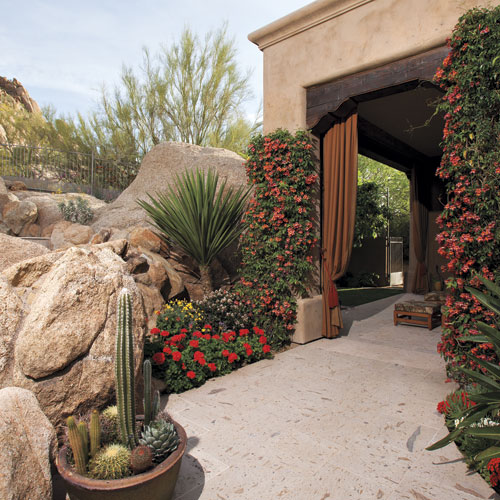 Vibrant Color and A Rich Plant Palette Highlight A Patio's Entryway: Sometimes it's the smallest of planting spaces that provides the biggest opportunities to make a major impact. Such was the case at a Tuscan-style house in North Scottsdale where outdoor living spaces reign.
For Lita and Paul Luvera, who reside in Seattle most of the year, a visit to their Arizona home is all about slowing down and enjoying the sunny climate. When the couple first purchased their house, they brought in Peggy De La Garza, a Phoenix Home & Garden Masters of the Southwest award winner, to fill in the grounds with color and unusual plant selections.
Tucked into one side of the backyard is a small covered patio that leads to the master bed-room. To give the nondescript area some pizazz, the landscape designer worked her magic, mixing desert vegetation with flowering annuals and colorful tropicals. She chose tangerine crossvine (Bignonia capreolata) to create a carpet of orange and green up the sides of the patio wall. The self-attaching vine rarely freezes, is low maintenance and is a profuse bloomer, flowering almost year-round.
Wanting more planting space, she configured a naturallooking border by installing boulders on one side of the cantera walk, then tucked in red geraniums, yellow bush daisy, a Spanish dagger yucca and potted cacti. "The idea was to create an exterior environment that comple-ments the interiors," says De La Garza, who chose the plant hues based on the home's palette. Lita adds, "And the stark beauty of Pinnacle Peak as a backdrop enhances the vibrant colors of the yard."