If you want more color in your landscape but don't want to bother with flowering perennials, potted containers are by far the easiest way to bring life to the garden. For added impact, try combining a variety of plants, colors and textures in each pot. For inspiration, here are five vibrant garden planters created by Trademark Landscape.
Photography by Nancy Erdmann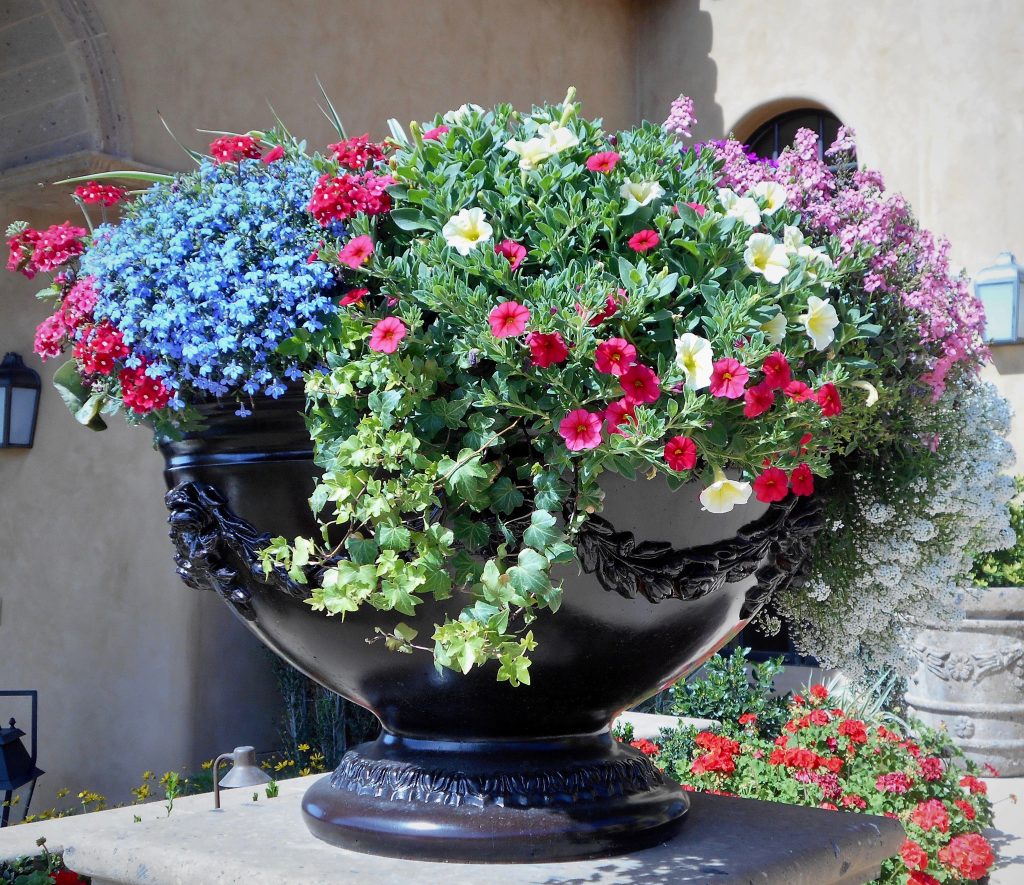 FLIRTING WITH FLOWERS
Set atop a pillar, this wide-mouthed container is filled to the brim with (left to right): pink verbena, blue lobelia, ivy, miniature petunias, alyssum and purple angel flower. "The trick here is to balance your flower shapes so that one side of the pot doesn't appear too heavy," says Trademark Landscape owner and designer Peggy De La Garza. "Here, the blue and purple add visual weight on either side."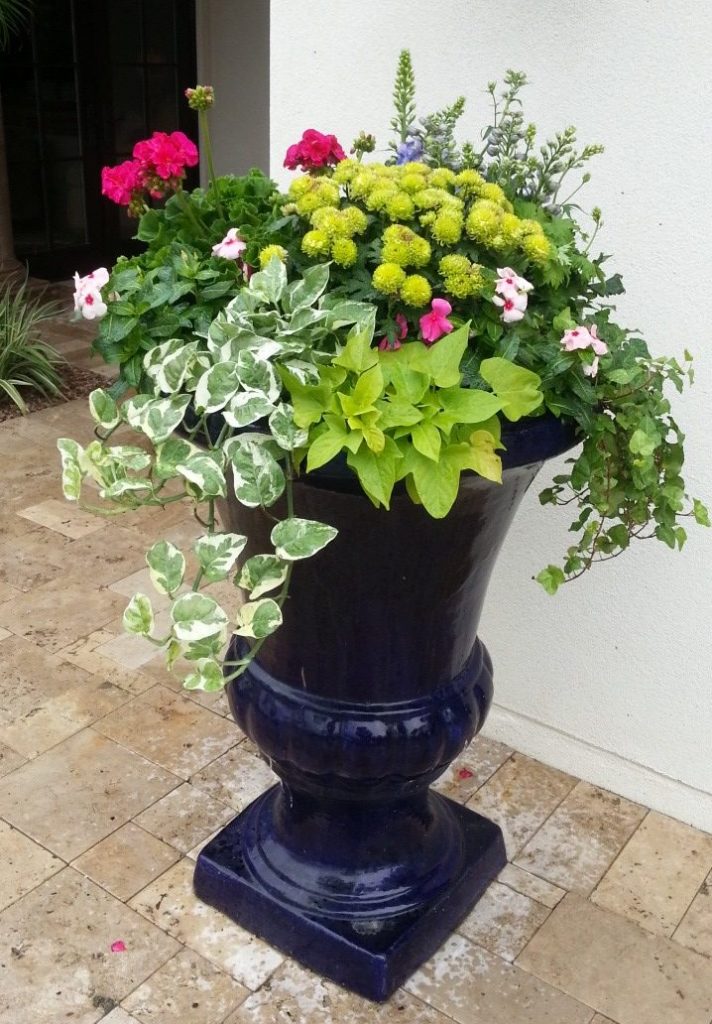 COLOR HARMONIES
A stained concrete floor urn comes to life with plants of varying heights and trailing ivies. Pictured here are (left to right): variegated 'N' Joy' pothos, chartreuse potato vine, ivy, pink vinca, yellow mum, blue delphinium and red geranium. "Adding varying shades of green and variegated varieties offers a tone-on-tone effect and brings some pattern into play," notes the designer.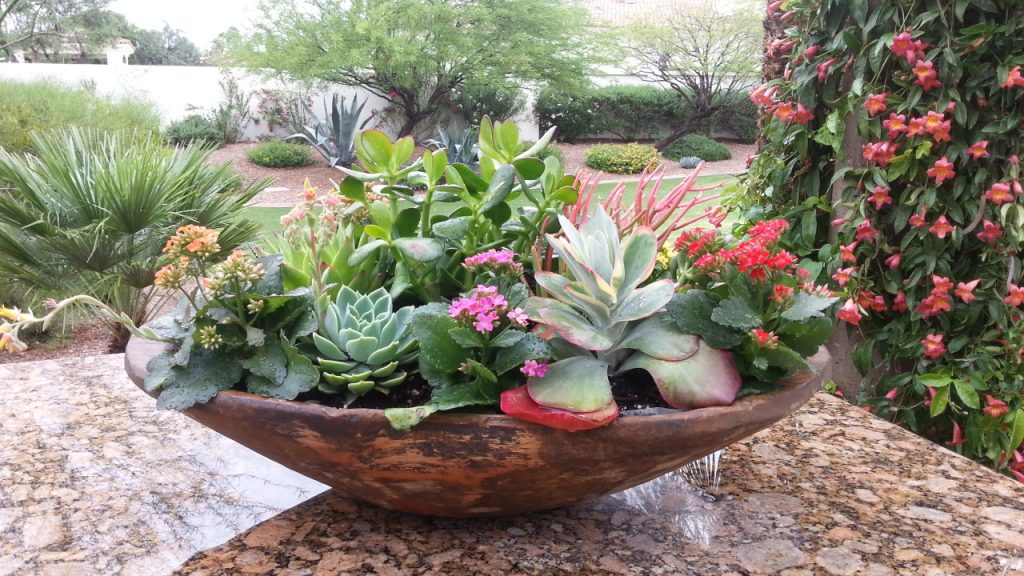 DESERT VISION
Succulents say it all with their fascinating shapes and unique flowering habits. "What makes this work is that all of the plants have the same low-water needs," notes De La Garza. "You never want to pair succulents with annuals, as annuals require far more water and you don't want to rot the succulents." Here, she combined (left to right): yellow kalanchoe, echeveria, crassula, red-tinged kalanchoe flapjack, red fire sticks and red blooming kalanchoe.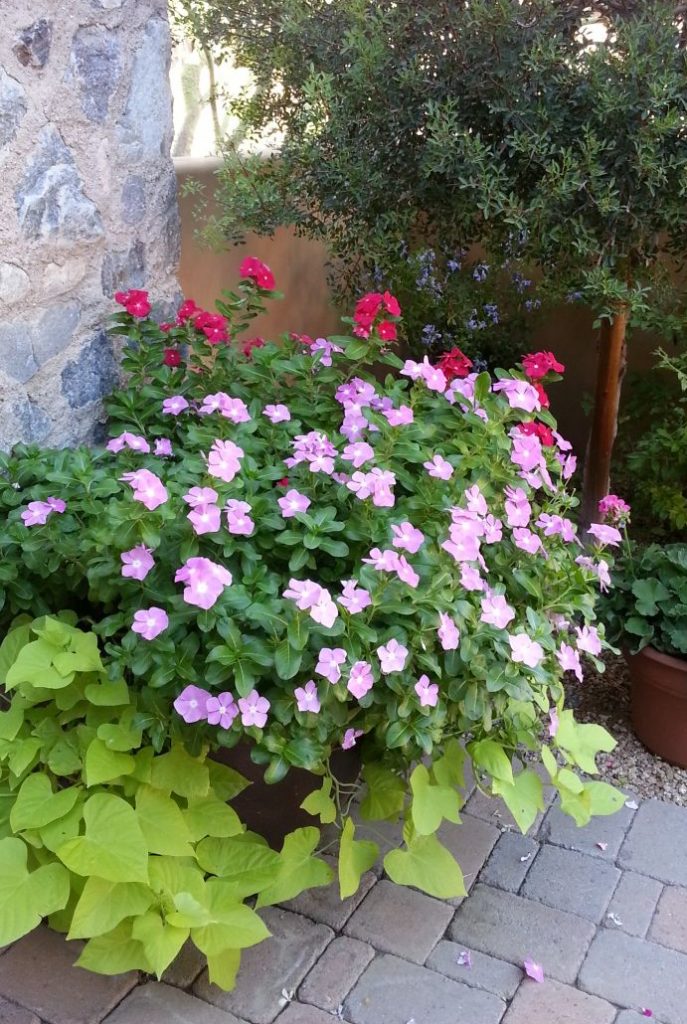 BIG LOOK, SIMPLE IDEA
Keeping your palette simple allows one plant to play the starring role while the others serve as great backups. In this case, the profuse-blooming pink vinca 'Cora' takes center stage, while sweet potato vine and red vinca 'Cora' — also expansive growers — play their own parts. "Even though only a few colors are used, you still get an explosion of color by selecting a plant with a dynamic flowering habit," says the designer. "And vinca is an excellent choice for this, especially in hot climates."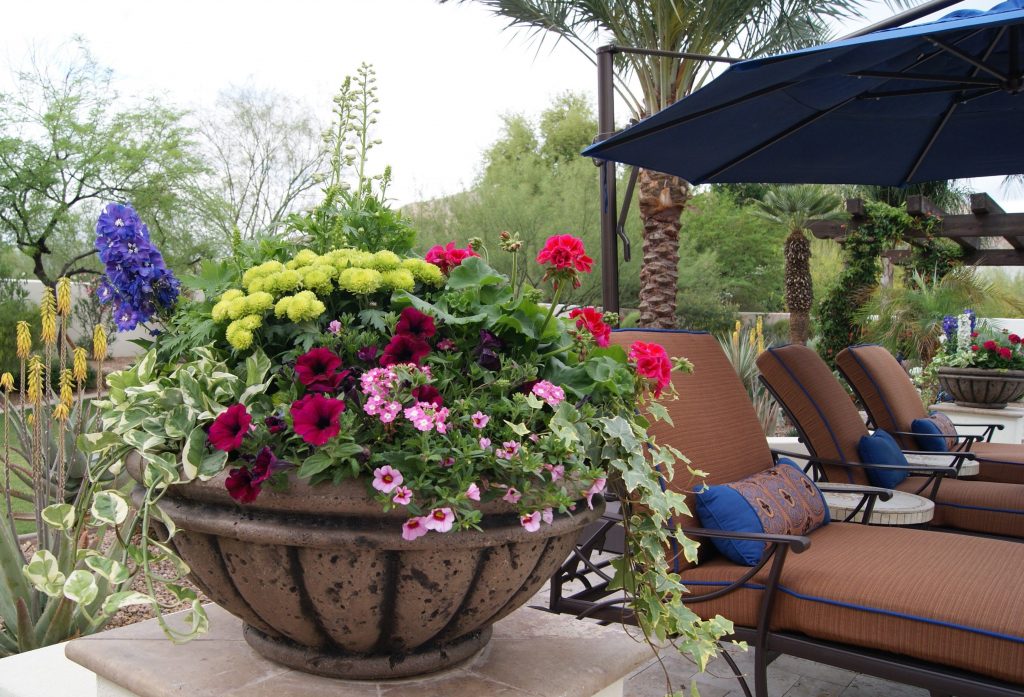 SCENE STEALER
Serving as a focal point for a patio lounging area, this pretty combo includes (left to right): variegated 'N' Joy' pothos, blue delphinium, deep-red petunia, pink million bells, trailing ivy, red geraniums and yellow mums. "Don't be afraid to play with color, texture and shape when designing with pots," advises De La Garza. "If you don't like what you did, simply — but carefully — pull the plants out and start over again until you come up with a look that pleases your senses."